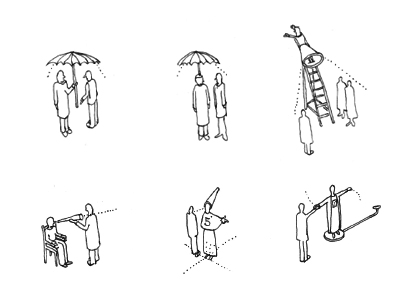 People as devices: exploring the mechanisms ofservice transaction
Sony selected a team of 8 people - Sony managers, Interaction-Ivrea researchers and designers Dunne & Raby - to do an intense 4-week workshop. The goal was to come up with concepts for a possible Sony intervention in the Torino 2006 Winter Olympics. These concepts would serve as a platform to gain insights for both design practice and education.
The workshop centered around services: the possibility of creating meaningful and aesthetic manifestations of services.A collection of concepts was generated, looking at how Sony could have performers that become device-service hybrids in the event.
. Click arrows to navigate concept images
< <
> >
Team:Chris Lui (Sony), Kazuto Mugura (Sony), Tony Dunne (Dunne & Raby), Fiony Raby (Dunne & Raby), Heather Martin (Ivrea), Michal Rinott (Ivrea), Stefano Mirti (Ivrea), Giorgio Olivero (Ivrea).