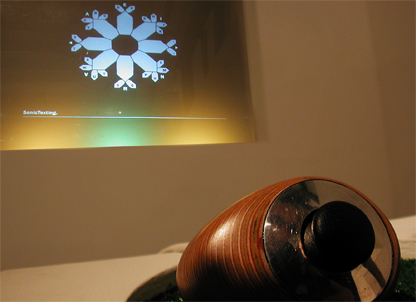 SonicTexting at the Victoria and Albert museum, London, 2005
SonicTexting is a way of writing text - "texting" - using touch and sound. It explores people's hand-ear coordination and their ability to use sound as information. Like with musical instruments and everyday mechanical objects, sound in SonicTexting is synchronous and responsive to actions.
SonicTexting proposes that through touch and sound, interacting with digital devices can become an experience on the borders between a functional task, an instrument and a game.


Exhibitions:
Touch me, Victoria and Albert Museum, London 2005
Fondazione Sandretto Museum, Turin, 2005
Manual Labor, Genk, Belguim 2005
The interactive Bodysnatchers, Salone Del Mobile, Milano 2004

See the SonicTexting website for more details.