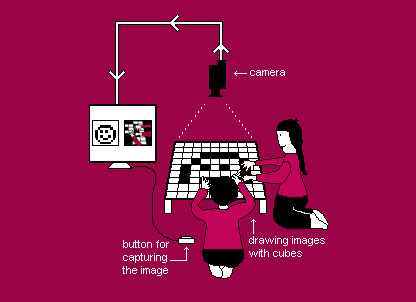 Pixel Materiali interaction scheme

Selected Installations:
Technologicamente Childrens Museum, Ivrea, Italy (premanent exhibit)
Annual Science Fair, Genova, Italy 2005

Publications:
Pixel Materiali - A system for creating pixel and understanding pixel-based animations. IDC2007 conference proceedings (forthcoming)
Pixel Materiali is a physical play environment which enables children to create pixel animations, and through this process to understand digital images and animation. Drawings are created by flipping physical pixels – blocks with a white face and a black face - on a pixel tabletop. When the drawing is ready, the overhead camera takes a first snapshot. Then, pixels are flipped and another snapshot is taken, and then again. On a screen, the snapshots are presented in sequence - an instant animated movie.
Pixel Materiali is designed as a simple, intuitive system in which children interact with physical tiles while technology remains in the periphery of the experience.